HOW TO TIE A TIE
The Half-Windsor is the perfect knot for the workplace. Get it right every time with these 5 simple steps.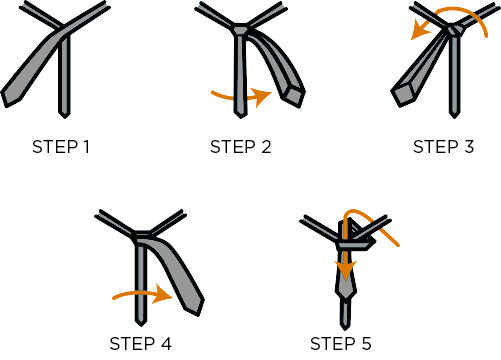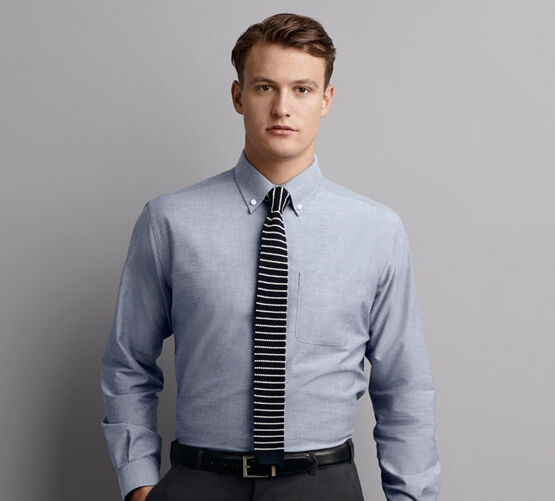 PERFECT PANT LENGTH
It might seem like a small detail, but to perfect your look, it's worth going to any lengths to ensure your pant length is impeccable. Having a gaping ankle or shoes covered in folds of fabric will get you noticed for all the wrong reasons. Here's the right way to go about perfecting your hem length:
Too short
A gaping ankle shows the hem sitting way too high.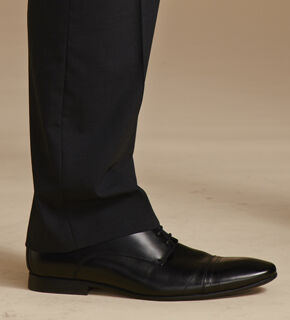 Too long
Folds of fabric create an unflattering fit and overall bagginess.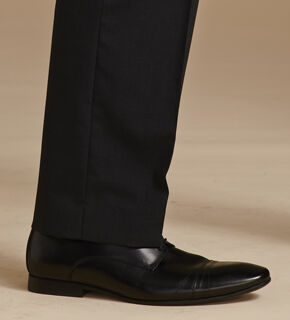 Just right
The hem should sit just slight on your shoe, with a small fold crease for movement
FINDING THE PERFECT SUIT
It may seem like a simple thing, but a well fitting suit makes a world of difference to your overall appearance. Here are our top tips for getting the perfect fit right first time and always looking sharp. So take some time to read, measure up for success and enjoy a perfect fit.
The Jacket
Your jacket should fit the silhouette of your frame and highlight your shoulders, with your shoulders feeling ever so gently gripped and supported by your suit jackets
Take a relaxed stance with your arms art your sides. Cup the bottom of your jacket with your hands, if it bunches in your palms, it's too long.
Sleeves end where the base of the thumb meets the wrist and you should be able to see an 'inch' glimpse of shirt fabric.
The top button of your jacket should fall just at or above your navel, never below.
The Pant
Ensure you measure your waist where your suit pant will actually sit.
Beware of the ripple effect – don't go to big or too baggy.
The back of your pant should be a smooth drape over your rear.
For the perfect length your pant should just make contact with your shoe, and feature a small single crease in the fabric as it sits on your shoe.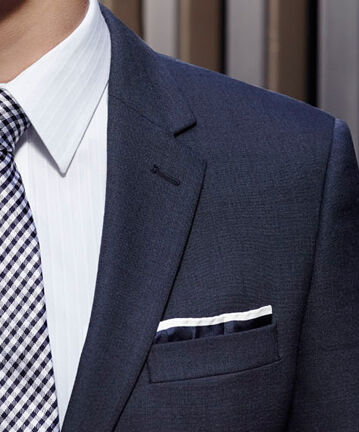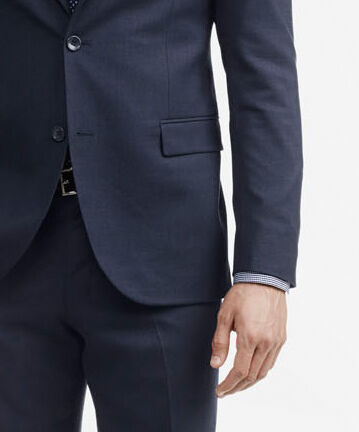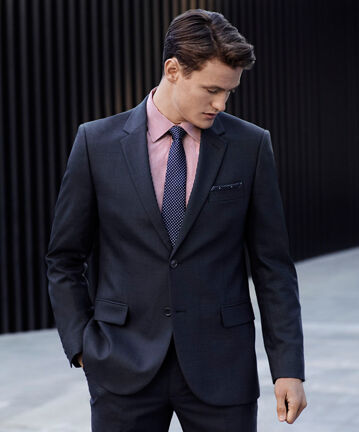 FINDING THE PERFECT SHIRT
Whether complimenting your suit, or worn as a feature in its own right without a jacket, your shirt speaks volumes about your look. Getting it right with the perfect fit is easy if you follow a few simple rules – not least of which is ensuring your shirt is wrinkle free and pressed to perfection. Nothing looks smarter that a clean, crisp and perfectly fitted shirt. Here's how to get it right.
The Collar
The perfect collar fit touches the skin all the way around the neck, but doesn't press against it.
When the top button is done up, you should be able to comfortably slide a finger between your collar and neck.
The Shoulder
The vertical shoulder seam should meet the corner of your shoulder bone, or the point on your shoulder which is the farthest from the centre of your chest.
Armholes should be comfortable in motion, and not so tight that they cut into your underarm.
The Sleeve
Your sleeve cuff should end neatly at your wrist, or just below it, but never above.
The sleeve should allow for movement and be slightly wider at the upper arm than the cuff.
The Body
The shirt should fit the body without hugging it or being too tight, billowing means it's too large, and straining buttons and creases means it's too small.
When tucked in there should be no billowing or excess fabric, and buttons should close comfortably.
The perfect length shirt when untucked sits slightly above your crotch line.
TOP TIP - Our range of men's shirts come in a few fits, relaxed, fitted and slim fit. Click here to view the fitting guide for more information.